Kwahu Community Association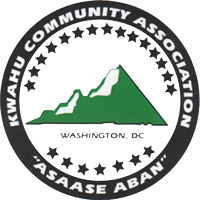 The Kwahu Community Association is one of the oldest Ghanaian non-profit organizations formed in the Washington area in the 70s. As Kwahus residing in the Washington Metro area of the United States of America and being conscious of our customs, traditions, cultural and national heritage, we have acted in conformity with our Ghanaian spirit of love, brother-hold, and oneness, and realizing the need of strong unity and progress have committed ourselves to the institution of an organization. We seek to foster and maintain relations and solidarity among all Kwahus in times of happiness or distress. And seek to promote interest in the general welfare of our members and that of the Kwahu Traditional Area. Our paramount objectives are to:
Be independent, non political and non profit
Foster cordial relationship, unity, harmony, understanding and cooperation
Serve as the sole recognized united voice of all Kwahu residents in the Washington Metro Area
Serve as an arbitrator/mediator of disputes and misunderstanding among members
Provide a common forum for exchange of ideas
Promote the interest and welfare of its members
Identify, discuss and where feasible provide support financially or otherwise
We are of the opinion that as a people we should be able to have a mark where we live so that when we are gone we will know we made history. We have indeed taken the necessary steps destined by God for us that with our determined consciousness, tomorrow and the days that follow will never be the same. We welcome all with equal aspirations to our flock. "ASASE ABAN."