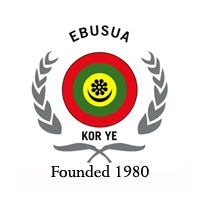 Ebusua Inc. of the Washington Metropolitan Area, U.S.A. was founded in May 1980, as a nonprofit, nonpartisan, educational voluntary and charitable organization under IRS Code 501(c) (3).
Ebusua Inc. is a multi-ethnic and cross-cultural organization with a membership base from all regions in Ghana. It is dedicated to foster a close relationship among indigenous Ghanaians, their families and people of African descent.
It promotes a closer African/American relationship and understanding. Provide the community with relevant information and services affecting our society. It also helps to bridge the gap between Ghanaian Americans and the American mainstream, by providing educational seminars, symposiums and training.
True to its name Ebusua, which is an Akan word for Family, the association has fostered among its membership, a strong bond of fellowship and affection, thus establishing an organization which is a family of endearing friends.
Ebusua has successfully and effectively combined its goals of being a benevolent society, an organization that supports charitable ventures and one that provides a haven for Ghanaians and Ghanaian Americans to socialize with each other. It is one of the most progressive organizations in the Washington Metropolitan area.
We meet every 1st Saturday of the month at the Howard University Blackburn Center in Washington DC from 7:30 pm.
For more information, please visit us at www.ebusuainc.org or click here.