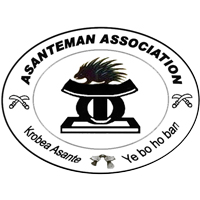 Members of the Asanteman Association have come together to further the cause and image of Asantes and Ghanaians as a whole in the United States. The primary goal of the Asanteman Association is to unite all Asantes to support each other and to assist in the development of Asanteman. Our membership is growing rapidly, because we believe in UNITY. The membership of the association is drawn from Asantes in the Washington Metropolitan Area and others who are attracted to the progressive and dynamic Asanteman Association.
Asanteman Association was born three ago under the leadership of Mr. Akwasi Owusu and Nana Amo Gyebi. As part of implementing the ideal association, a hybrid governing body structure of an Executive Council and an Advisory Council we adopted. Mr. Maxwell Prempeh, Obarimaba Kwame Bonsu and Nana Odietuo Asante were elected as Interim Co-Chairmen to steer the association to the total unification of all Asantes in the Washington area. Through the leadership of these men, the association wrote and ratified a constitution and elected Executive Council, Asantefuohene and Asantefuohemaa.
Last September, the coronation of Asantefuohene, Nana Kofi Agyenim Boateng and Asantefuohemaa, Nana Ama Achiaa (Margaret Frimpong) was held at Candy Cane Park in Maryland. The coronation was followed by a dinner/dancer at the plush Capitol Hill Hyatt Regency in Washington DC. Both events were chaired by Nana Adusei Ampen, Omanhene of Tepa Traditional Area who came to represent, The Asantehene, Otumfuo Osei Tutu II. The events were huge success and were attended by people from different walks of life in Washington Metro Area and representatives of member associations of Asanteman Council of North America (ACONA).
We would like to extend invitations to ALL to join the growing membership of Asanteman Association that is dedicated to Unification. The Asanteman Association meets on the last Saturday of every month at Fairlington United Methodist Church, 3900 King Street, Alexandria, VA. Please join us at the next General Meeting for a refreshing experience. This year, we invite you to our annual dance at the Washington Times Arbor Ballroom, 3600 New York Ave, Washington DC on June 11, 2005 to a night of good hi-life music and cultural display.
Visit our website at www.krobeasante.org