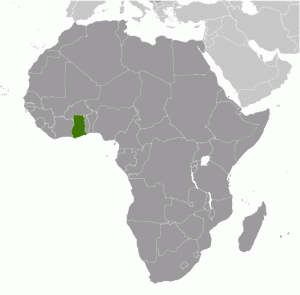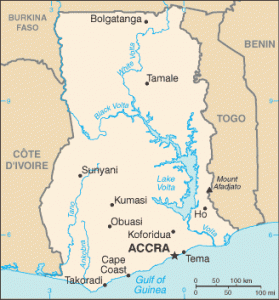 Introduction
Formed from the merger of the British colony of the Gold Coast and the Togoland trust territory, Ghana in 1957 became the first sub-Saharan country in colonial Africa to gain its independence. Ghana endured a long series of coups before Lt. Jerry RAWLINGS took power in 1981 and banned political parties. After approving a new constitution and restoring multiparty politics in 1992, RAWLINGS won presidential elections in 1992 and 1996, but was constitutionally prevented from running for a third term in 2000. John KUFUOR succeeded him and was reelected in 2004. John Atta MILLS took over as head of state in early 2009.
Flag:
The flag of Ghana was designed by Mrs. Theodosia Salome Okoh: "I decided on the three colors of red, gold & green because of the geography of Ghana. Ghana lies in the tropics and is blessed with rich vegetation. The color Gold was influenced by the mineral rich nature of our lands and Red commemorates those who died or worked for the country's independence. Then the five pointed lone star which is the symbol of African emancipation and unity in the struggle against colonialism. Source: www.GhanaWeb.com
National Anthem:
God Bless Our Homeland Ghana
Lyrics/Music: Unknown/Philip GBEHO
God bless our homeland Ghana,
And make our nation great and strong,
Bold to defend forever
The cause of Freedom and of Right.
Fill our hearts with true humility
Make us cherish fearless honesty,
And help us to resist oppressors' rule
With all our will and might evermore.
Hail to thy name, O Ghana
To thee we make our solemn vow;
Steadfast to build together
A nation strong in Unity;
With our gifts of mind and strength of arm,
Whether night or day, in the midst of storm,
In every need whate'er the call may be,
To serve thee, Ghana, now and evermore.
Raise high the flag of Ghana,
And one with Africa advance;
Black star of hope and honor,
To all who thirst for liberty;
Where the banner of Ghana free flies,
May the way to freedom truly lie
Arise, arise, O sons of Ghanaland,
And under God march on forevermore.
TWI
Yen Ara Asase Ni
Yen ara asase ni
Eye abooden de ma yen
Mogya a Nananom hwie gu
Nya de to ho ma yen
Adu me ne wo nso so
Se ye be ye bi atoaso
Nimdee ntraso nkotokrane
Ne apese-minko-minya
Ato yen bra mo dem
Na ye 'sase ho do atom se
Chorus:
Oman no se eve ye yie oo
Oman no se ennye yie oo
Eye se na ose
Omanfo bra ne ekyerei le
No le eji sane ko
Ni ka eman bii ano
GA
Wo Dientse Wo Shikpon Ne
Wodientse wo shikpon ne
Ni ej' ra wa ha wofee
Wo tsemei shwie la shi
Dani ame ke he ha wo
Eji mi ke bo gbenaa
'Ke wo hu wofee he eko
Ja nilee ke hesuomo pe aaanye
Wo shikpon le akpo
Nye baa ni nye haa woman le
He suomo ahi wo mli
Chorus:
Ke ji ake man ko aaahi le
Ke ji ake man ko ehii
EWE
Miade Nyigba Lolo La
Miade nyigba lolo la, enu wonye woafo asia,
Mia togbuiwo tso wofe agbe gbledeta xoe nami,
Edo nye kpliwo ha dzi be miawo miato sinu
Nuvevie nyanya, didodo kple amedokui to didi
Gble mia zoli hegble miade nyigba ale gbegbe.
Chorus:
Denyigba wo nyonyo, denyigba wo gbegble
Alesi nele ko sigbe ko woano daa.
English
This is our own cherished land,
acquired through the blood our ancestors shed for us. 
It is now our turn to continue what our ancestors started.
Pride, cheating and selfishness has scarred our character, 
and diminished our affection for our land.
Whether or not this nation prospers, 
Depends on the character of the citizens of the nation. 
Bragging of educational achievements, empty boasting, 
and vain talk is destroying our nation.
Hard work and respect for one another is what we need. 
Selflessness and compassion for one another 
Will bring peace and prosperity to our nation.
Whether or not this nation prospers, 
Depends on the character of the citizens of the nation.
© Dr. Ephraim Amu